OK, I use this title just to bring attention.
After watching all 3 episodes of the BBC documentary, Are our kids tough enough, Chinese School,  in my opinion, there is one aspect of British kids that really needs to improve: coping with competition and failure.
When British kids were in the PE class, they were very upset that they might fail. Philippa actually sobbed on not passing one item. And she said:
"I just don't think comparing yourself to others is a good, healthy life style."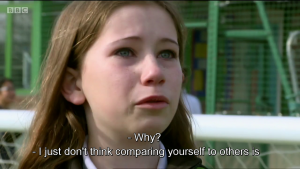 Philippa is not alone. In the 1st episode, we saw another boy sobbed during PE class.
Well, I have to agree with Philippa that it is not a healthy life style. But competition is part of life. Ranking students all the time with different measures is of course too much, but exposing them to a certain dose of competition is essential to their development. To Philippa, I'd say it's equally not healthy if young people are so scared of competition that they sob on a failure in just one PE preparation. I don't want my daughter to be so fragile.
So this is the advantage of Chinese teaching. Put all the drawbacks aside, this is probably one thing Britain should learn from Chinese teaching: To get the kids used to competition.